Please switch Metamask to MATIC or Arbitrum network.
On-chain
storage has its benefits, but neglects the possibility of a catastrophic demise of the Ethereum network. It is thus prudent to preserve the audiovisual information on redundant physical media and distribute it geographically.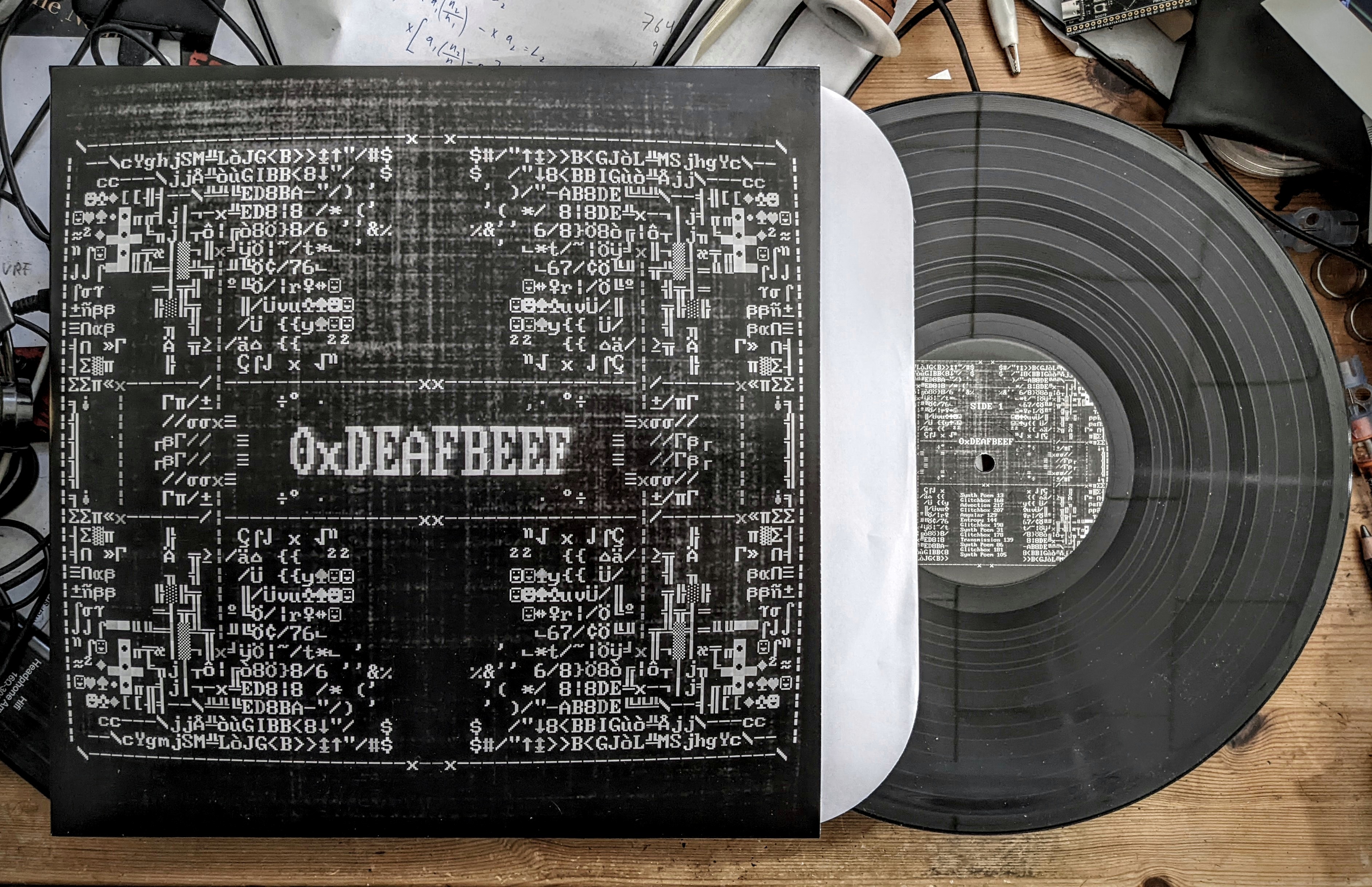 DEAFBEEF: Self titled, limited edition vinyl release. Audio compiled from Series 0 - 5 between March and Sep 2021. All sounds synthesized through generative systems, implemented as C code and stored on the Ethereum blockchain. Details.
A decentralized album: Many pieces have been selected and/or curated collaboratively by collectors and fans. A representative set have been carefully sequenced to an album format.
180g black 12" Vinyl Record with white inner sleeve.

SOLD OUT: Signed(autographed) edition limited to 300.
AVAILABLE: 107/200 Unsigned edition
AVAILABLE: 8/10 Test pressing

Side 1 (19:54) Click for track listing

Synth Poem 13, 0:00.317
Glitchbox 168, 1:55.120
Advection 217, 3:20.100
Glitchbox 207, 5:14.011
Angular 129, 6:54.330
Entropy 144, 8:28.330
Glitchbox 198, 10:32.655
Synth Poem 31, 12:04.604
Glitchbox 178, 14:04.754
Transmission 139, 14:51.710
Synth Poem 86, 16:13.818
Glitchbox 181, 17:04.305
Synth Poem 105, 17:46.920

Side 2 (19:57) Click for track listing

Glitchbox 174, 0:00.277
Synth Poem 58, 1:20.465
Advection 216, 2:15.444
Glitchbox 185, 4:13.319
Advection 215, 5:21.863
Glitchbox 162, 7:19.661
Glitchbox 158, 8:19.596
Synth Poem 100, 8:47.130
Glitchbox 187, 10:16.888
Glitchbox 180, 10:59.734
Glitchbox 209, 11:52.082
Synth Poem 69, 12:45.165
Glitchbox 186, 15:13.088
Synth Poem 91, 15:55.801

A minimum of 100 additional unsigned editions still available. A firm cap for unsigned editions will be determined after gauging demand. A cosideration is that extras need to be saved to allow replacement of loss/damaged records during shipping.
Distribution is via smart contract queue mechanism. On top of a minimum purchase price, buyers may bid an extra amount to improve their place in the queue. At any time before shipment, buyers can change their bid amounts, or refund their purchase (excepting gas fees). After purchasing, buyers must login via cryptographic signature to provide a shipping address and contact method.
You may purchase on Arbitrum, Polygon or Ethereum Mainnet, but keep in mind that gas fees will be high on Mainnet in comparison to the purchase price. Gas fees are not refundable.
Note:
After purchasing, you can tip an additional amount to secure a higher place in the queue. Orders are refundable (less gas costs) until the time they are shipped.
Note:
After purchasing, you must login to your account (through signature) to provide a
shipping address
Note 2
: US/Canada/Europe Fedex shipping included (please consider tipping a little if you are in Europe). For all other locations please
contact.